Vacuum Priming Tool: Order P/N 200-0002
The DieMark Vacuum Priming Tool is designed specifically for use with DieMark 3 mil and 5 mil Filament Ink Cartridges. Designed for small dot production, the small filament size of the 3 & 5 mil cartridges extends priming time when using traditional "manual" priming . Manual priming relies on manually stiring the ink and multiple activations of the filament in order to establish ink flow to the cartridge needle tip.
Learn more about the NEW 3mil Small Dot Ink Cartridge!
The purpose of priming the cartridge with the Vacuum Priming Tool is to expedite the priming process for the small dot filament ink cartridges. The vacuum priming tool ensures that the lower ink reservoir and ink flow channels below the bottom O-ring are completely filled with ink. This will ensure even, continuous ink flow to the filament and shorten overall priming time.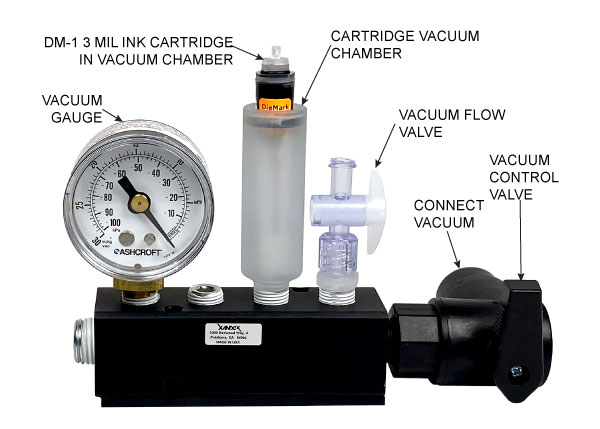 The Vacuum Priming tool is setup for priming by using the flow control valve to set a vacuum level based on cartridge size and ink type. The vacuum control valve is then turned on for a specific time, based once again on cartridge size and ink type, to draw ink into the cartridge lower ink reservoir.
View/Download a PDF of the Vacuum Priming Procedure
Note: Small Dot Production requires a short cartridge filament stroke. The Plunger Stop Assembly limits the plunger stroke in an adjustable add-on for small dot inking. The Plunger Stop Assembly is required to place the smallest dots possible. LEARN MORE HERE